About
A century ago, the celebrated Jewish resorts started in the Sullivan and Ulster County Catskills. New Yorkers hungry for mountain air, good food, and the American way of leisure came to the mountains by the thousands, and by the 1950s, more than a million people inhabited the summer world of bungalow colonies, summer camps, and small hotels. The Catskills Institute was created by the organizing committee of the History of the Catskills conference that was held in Woodridge, New York on Labor Day Weekend 1995.
Upcoming Events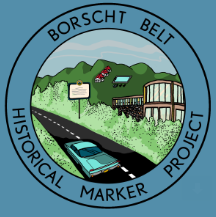 We're pleased to share two important Catskills history efforts, with upcoming events in various locations in the Catskills:
Borscht Belt Museum
https://www.borschtbeltmuseum.org/
Featured Exhibit
Alfred S. Landis was a great postcard artist, who was well known for his work depicting the hotels, bungalows and camps of the Catskills in the 40's. His signature style involved aerial perspectives of each property, with whimsical details highlighting the amenities that each establishment had to offer. His original paintings were often purchased and displayed in the hotels that he painted as well as turned into postcards. His works are representative of the playful nature of the Catskill hotels, and are popular items for collectors today.
The Collection
Since 1995, the Catskills Institute has collected a variety of materials derived from and about the Jewish experience in the Catskills including reminiscences, literary texts, photos, menus, rate cards, postcards, memorabilia, business records, and interviews. Each item offers unique insights into the peak of Catskills summer culture. The Catskills Institute Archive is the world's largest repository of material on the Jewish experience in the Catskills, and we are pleased to share this with you. We invite you to explore our collection at your leisure.